The future of work is here
As the way we work evolves, there are expectations for more flexible spaces which meet changing demands. Smart Workplace solutions provide the transparency and insight to make more data-driven decisions for your property portfolio. Explore Siemens technologies that support workplace health & safety and real estate right-sizing - designed to help organisations in Australia and New Zealand stay competitive and improve the building user's experience.
IoT solutions designed to drive productivity, flexibility & sustainability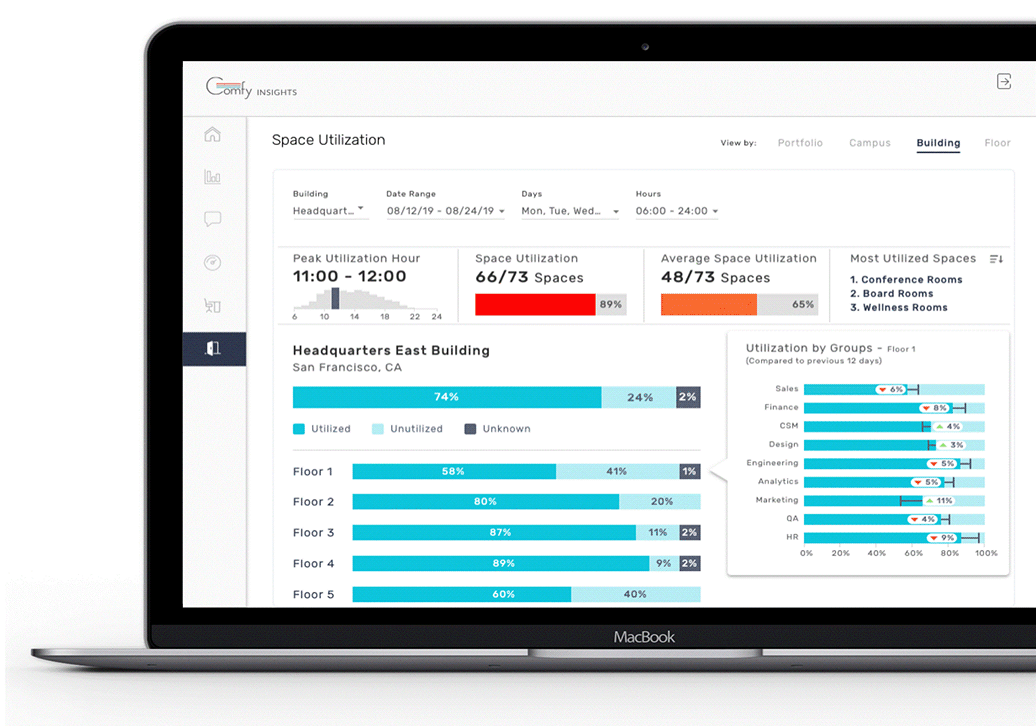 Transparency into space utilization for the workplace of the future 
Smart Workplace applications can provide accurate insight into building usage, occupancy views and patterns. Our Comfy app provides corporate real estate leaders with the insights for better space utilization and planning. The dashboards and reports offer actionable data for:

Portfolio view: To gauge portfolio utilization and understand most utilized buildings within the portfolio 
Building view: To gain immediate view into preferred and used floors and to determine peak use for real estate right-sizing 
Floor view: To understand room and desk occupancy levels, recognize clusters and understand utilization trends and demands for better planning
Leveraging on the data collected by our Enlighted IoT sensor network, users have a detailed, non-intrusive views of workspaces and employee movement, which can be used to increase productivity, optimize workspaces for higher utilization and drive cost-saving initiatives.

Give employees and building occupants greater transparency and control on desk or room availability
A Workplace app enables engagement with occupants and keep them informed, safe and productive. Accomodate social distancing through configurable desk booking, help occupants find and select amenities to prevent overcrowding or search if a colleague is working from home or the office.  The app can also provide timely updates related to COVID-19 or configure content for localized needs and mandates.
When integrated with Enlighted IoT sensors, social distancing measures established can also be managed by building operators through insights provided by data on the utilization of rooms or common office spaces. The platform allows users to ensure guidelines are being adhered to based on set thresholds. 
Seamlessly connecting occupants directly to the building
By connecting to existing workplace systems, the Workplace experience app provides occupants personalized control over their building environment. Our solution seamlessly connects occupants directly to the building through a single, intuitive app, empowering them to control aspects of their building environment including temperature, lighting, meeting rooms, and more. Applications include:

Did you know that the right lighting conditions can positively impact employee alertness and productivity? Human Centric Lighting (HCL) improves overall well-being of building occupants by adjusting the intensity and colour temperature to support circadian rhythm, enhance concentration, or to simply help relax. With smart lighting solutions, employees are in greater control of their environment and building owners can drive greater energy efficiency. 
Applications for IoT lighting
Daylight harvesting: Enlighted smart sensors adjust ambient light levels to save energy by taking advantage of available daylight. Sensors may be grouped together, ensuring a uniform light level for a harmonious visual experience.
Task tuning: Settings can be programmed to individual areas, based on each area's intended usage, to create appropriate lighting for any task and schedule.
Occupancy: Switch on or off lighting and adjust HVAC based on occupancy of the space. Vacancy detection further contributes to energy savings. 
Tunable white: Enlighted allows color temperature and intensity to be adjusted, increasing occupant comfort and well-being through perceptions of color temperature. Warm-hued white light promotes a feeling of calm, while cool white hues increase alertness.

Balancing safety with privacy
The Enlighted 'Safe' application enables accurate contact tracing through an algorithm which utilizes both proximity and the duration of encounters. If a building occupant tests positive, the application can identify the individuals the infected person was in contact with for a selected date range and proximity. 'Safe' then displays a list of each encounter and the duration of exposure.
With anonymity options, the application balances safety with privacy - helping facilitate greater user adoption. 'Safe' also provides insight on how much contact is happening within the building to develop a plan for risk reduction. It utilizes the same Real-Time Location Services (RTLS) infrastructure as the Enlighted 'Where' app, an asset tracking solution that offers additional use cases.
Explore other applications to turn this data into actionable insights
Smart sensors are installed in and powered by each lighting fixture in a building, creating a dense sensor network with advanced motion tracking and occupancy detection capabilities. Applications to turn this data into actionable insights include:
Explore IoT solutions designed to your needs
Contact
Get in touch with our team of experts
Siemens offers a comprehensive portfolio of IoT solutions to meet all your needs, including space utilization, energy management, safe and secure environments, location-based services and personalized workplace experience. From offices to hospitals to factories, we are committed to tailoring an approach that meets your specific needs.