Siemens Defines the Future of Energy with Resilient, Carbon Neutral Microgrid Campus
The Siemens Advanced Microgrid Research and Demonstration Lab has been created to analyze how microgrids, in addition to helping businesses and cities adapt to climate change, can accelerate energy access, enhance energy security and reduce the impacts of energy uncertainty on health and the environment.  Learn how this "Living Laboratory" was built and how it may help your organization achieve your business and environmental goals.
We Are Committed to Carbon Neutrality
Applying technology with speed can accelerate positive change
Siemens was the first major industrial company to commit to becoming carbon neutral.  This decision was more than just demonstrating our dedication to corporate responsibility.  It allowed us to demonstrate what's already possible utilizing today's technologies when it comes to addressing climate change.  The technology needed to rapidly reduce carbon emissions is already in the marketplace.  Last year, Siemens' technology helped U.S. customers decrease CO2 emissions by 132 million metric tons—that's more than the emissions of New York City, Los Angeles, and Chicago combined.
Blue Lake Rancheria: During a day-long outage in early October 2019, the Blue Lake reservation (video at right) was able to go into "island mode," sustaining itself with its own energy while serving as a local energy hub for approximately 10,000 people from outside the reservation.
An Action Plan for a Decarbonized Future
Our Environmental Action Plan
We have a responsibility to combat climate change.  Siemens was the first global industrial company to commit to carbon neutrality by 2030 and we will halve our emissions by the end of 2020.  We drive transformational change by anchoring sustainable behaviors across the organization and by implementing innovative solutions to improve the environmental impact of our facilities, fleet and energy procurement.
Ongoing decarbonization of our facilities and adoption of electric fleet vehicles

Development of innovative solutions, services and financing options to accelerate our customers' decarbonization and electrical fleet adoption strategies
Teaming with the best suppliers in the marketplace to raise the bar on supply chain environmental leadership
Partnerships and Collaborations for Sustainability
Close collaboration with stakeholders helps us to the address complex and intertwined challenges in the environmental realm.  We are proud to work with these organizations and their members to share knowledge, best practices and to help accelerate sustainable business innovation. 
​
​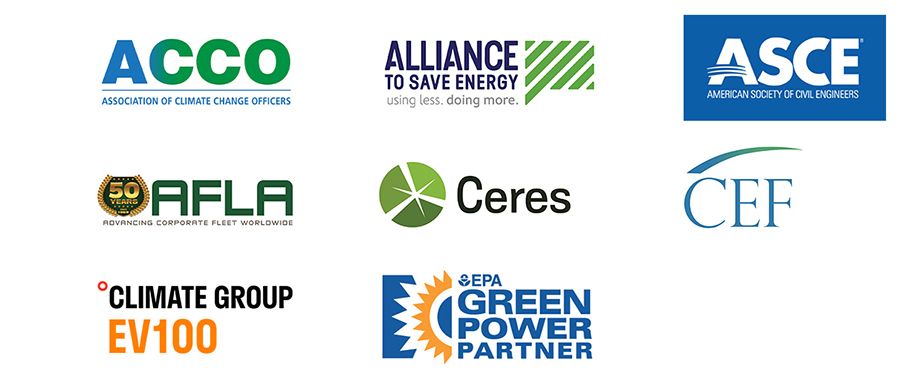 ​ ​ ​

To learn more about our carbon-neutral goals, download our Sustainability Report.